Careers in Energy Week: Where Passion Meets Purpose
Written by

Lynn Belken

October 17, 2023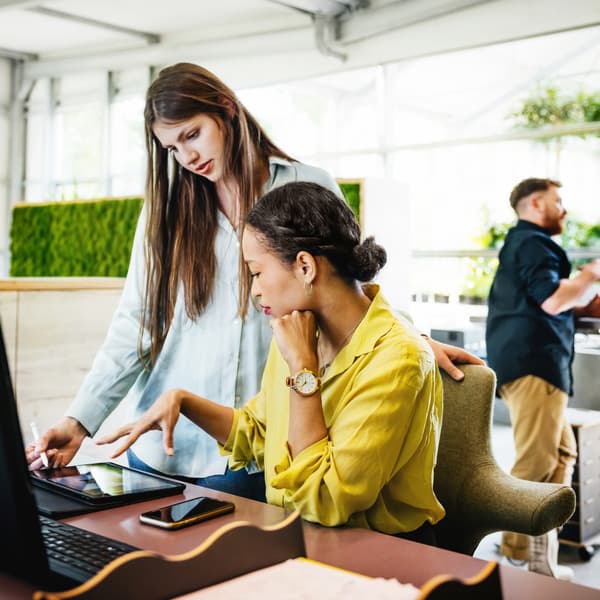 In a world that's increasingly conscious of the environmental impact of our actions, the field of energy has emerged as a beacon of hope for a sustainable future. As the world pivots towards electric transportation, a multitude of career opportunities are emerging in this dynamic and exciting field. Join us as we delve into these opportunities during Careers in Energy Week. 
Careers in this sector offer a unique opportunity to contribute to a more sustainable future while also benefiting from a growing job market. They encompass a wide range of roles and responsibilities aimed at reducing carbon emissions, combating climate change, and promoting sustainable practices. There are opportunities for individuals of all backgrounds, education, and skill levels.  
The 2023 U.S. Energy and Employment Report (USEER) shows that the energy workforce added almost 300,000 jobs from 2021 to 2022 (+3.8% growth), outpacing the growth rate of the overall U.S. workforce, which grew by 3.1%. Clean energy jobs increased in every state and grew 3.9% nationally.  
Leading the Charge in Transportation Electrification
RI has a strong legacy as a trusted provider of energy efficiency programs and grid analytics, but to amplify our efforts and maximize our influence on challenges like climate change, we needed to do more.  Last July, we started our Transportation Electrification (TE) Practice with Kelly Helfrich who has been building out her team with new members from across the country. By cultivating growth and fostering creativity within our team, we can continue to lead the way and actively support the energy transition. Take a moment to meet a few of the awesome employees who have recently joined us: 
Jill Marton, TE Product Marketing Manager. Jill is responsible for defining RI's unique value propositions and implementing a go-to-market strategy creating marketing deliverables and driving sales across our TE product verticals.  
"I am thrilled to use my marketing and advertising background in the automotive industry to help drive transportation electrification forward." 
Chris Crockett, Fleet Electrification Manager. Chris just joined RI as our Fleet Electrification Manager. In this role, he will help clients think through the challenges and the great opportunities that come with fleet electrification. He brings years of experience in program development, fleet electrification road-mapping, and carbon emission reduction strategy.  
"We're seeing a new relationship emerging between businesses, utilities, and the constituents of the communities they operate in. A good fleet electrification strategy creates a win-win for all these players. I'm excited to be back at Resource Innovations where I'll be helping to shape new programs and offerings." 
Kelly Helfrich, VP Transportation Electrification. Kelly leads our strategy, product development, and operations of our TE Practice and leverages her 10 years of experience in the electric vehicle sector when designing programs and solutions for clients.  
"I was fortunate to be a part of the energy, excitement, and investments made from the automotive side to bring EV adoption to the mainstream, and now that I'm at RI I get to focus on optimizing the transportation electrification ecosystem with utilities and other stakeholders." 
A Plethora of Positions  
If you're looking for a career that will both charge and change your future, it's time to get into energy! Here are just a few examples of the diverse career opportunities available in the industry: 
Analysts: Analysts research and analyze energy programs and policies, regulations, and legislation at the local, state, or national level. They recommend policies and regulations to promote electric and sustainable transportation and energy efficiency.   
Customer Service: Representatives in the energy industry play a crucial role in ensuring customer satisfaction with energy products or programs by providing excellent service, resolving issues promptly, and ensuring a positive customer experience.  
Engineers: Develop strategies for integrating renewable energy, new load growth, such as electricity used by electric vehicles, and other new energy technology into the electric grid while managing their impact on grid stability.   
Energy Efficiency Consultants: Advise individuals and organizations on how to improve energy efficiency in transportation and reduce energy consumption.  
Marketing and Outreach: Sales and marketing professionals educate consumers about the benefits of renewable energy, energy efficiency technology, and EVs, helping drive adoption. 
Program Managers: These individuals lead energy efficiency and TE initiatives for utility companies, government agencies, or non-profit organizations. They develop strategies, oversee program development/budget, set energy-saving goals, and monitor progress and implementation.  
Renewable Energy Managers: Oversee projects related to renewable energy sources that power electric vehicles and charging stations.  
Researchers: Conduct research on new technologies and strategies to advance transportation electrification and energy efficiency technologies, policies, and practices. 
Whatever your background or passion, there's a role for you in shaping the future of transportation. Explore our current job openings and start an exciting career journey filled with growth and positive change.