How Our Team Drives Change with TE Solutions
Written by

Lynn Belken

September 28, 2023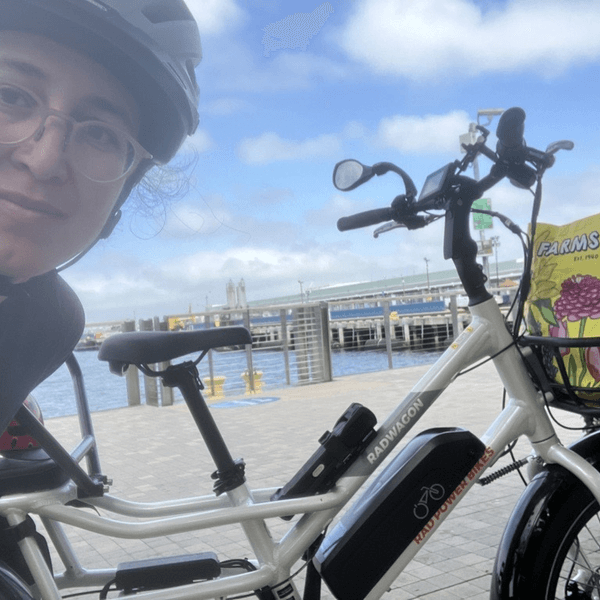 Climate change is the defining challenge of our time, and it's at the core of our work at Resource Innovations. We were founded on a belief that clean energy can be affordable and accessible to all. Resource Innovations' Transportation Electrification (TE) practice, led by Kelly Helfrich and team, is focused on helping utilities develop and implement programs across community electrification, fleet electrification and grid optimization, all focusing on the transition to electric mobility.
Most recently, RI has contracted with JEA, a utility in Jacksonville, Florida, to manage their new fleet electrification program, providing fleet owners with financial incentives, technical assistance, and comprehensive support for transitioning to electric vehicles (EVs). We've also supported Pacific Power, a utility in the Pacific Northwest, for five years with their Clean Fuels Program, which provides grants to expand access to community EV infrastructure, workforce development, e-bike sharing programs, and other e-mobility options in rural communities.
Not only are we excited and enthusiastic about our utility partners and their programs that promote the transition to EVs, our employees also share our passion for the conversion to e-mobility. They are genuinely passionate about their work at Resource Innovations, dedicated to making the world a better place for future generations, and committed to a sustainable energy future. During this Drive Electric Week, we asked employees to share their EV and e-mobility stories to inspire others to get creative in how they think about the TE landscape. Dive into these profiles to discover more about our team members, their love of EVs, and their passion for the work we do.
Laura Kimes—E-bike
As Head of Impact and ESG, Laura is leading the development of Resource Innovations' first corporate ESG practice and annual impact report after major acquisitions and growth from 100 to 600 employees. She is a huge supporter of the environment and e-mobility and loves that she can minimize her footprint with her RadWagon electric cargo bike (and her electric car!)
Q: What do you think the biggest challenge/opportunity is for mass EV transition?
A: The biggest challenge is infrastructure and not just for cars, but also for bikes. For example, there are great bikeways in my city that go north-south but strangely not many that go east-west and never have I seen an e-bike charging station.
Q: What excites you most about RI's role in helping utilities with their TE programs?
A: I get to see first-hand the giant impact that EV infrastructure brings to climate solutions.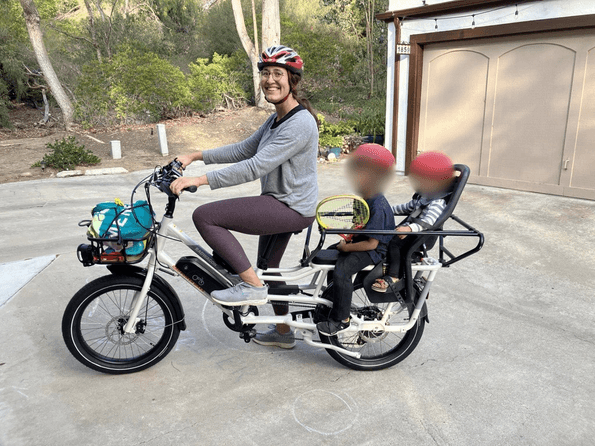 Troy Williams—Nissan Leaf
As Product Manager on our software team, Troy helps our program delivery teams improve operational efficiency and turnaround times. Troy enjoys being an early adopter of new technology, and EVs fit right into that by offering a new adventure to a common experience. "Driving an EV is fun! My Nissan Leaf offers smooth acceleration and instant responsiveness. A bonus is that I only spend about $0.50 for electricity versus $5.00 for gas on my 30-minute commute to the office."
Q: What do you think the biggest challenge/opportunity is for mass EV transition?
A: I really think the biggest challenge is 'range anxiety' resulting from the combination of relatively short drive distances and a lack of charging infrastructure.
Q: What excites you most about RI's role in helping utilities with their TE programs?
A: We have the opportunity to facilitate market transformation. Not only by incentivizing charging infrastructure, but by helping large companies adopt EVs, they will push the cause toward lower costs and improved infrastructure.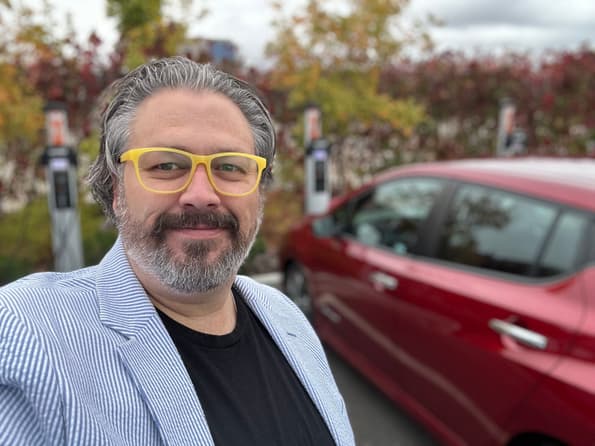 Stephanie Starr—Solectrac E-tractor
Stephanie, a Solution Delivery Manager, oversees a diverse set of utility transportation electrification programs. She supports the design and implementation of new and existing EV grant programs and EV charger rebate programs and provides support to community-based projects related to electric mobility. Although Stephanie does not own this all-electric tractor, she had a chance to get a photo with it at last year's FORTH Roadmap conference and is inspired by e-mobility's innovation and the many areas that it is evolving to; including agriculture.
Q: What do you think the biggest challenge/opportunity is for mass EV transition?
A: The most common challenges are accessibility, affordability, and adequate charging infrastructure.
Q: What excites you most about RI's role in helping utilities with their TE programs?
A: I love seeing the results of people wanting to do good things for their communities. One of the best parts of our grant programs is interviewing the applicants. It is a real humanizing experience, taking us beyond the paper application and allowing us insight into their passion for helping others. The opportunity to talk to these individuals one-on-one and gain a little more understanding about their bigger picture goals is incredible. There is so much good happening around us, even when we don't see it right in front of us. It's a feeling that makes everything in-between worth it.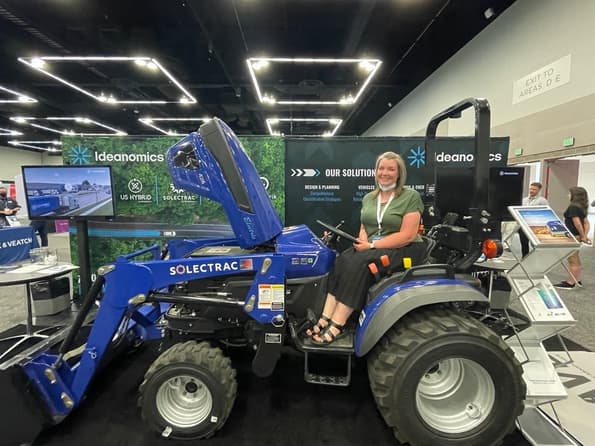 JP Harper—Rivian SUV
JP leverages his experience in DR and DSM to lead a national sales team as our Senior Vice President, Sales and Business Development. JP just purchased his first EV, a 2023 Rivian R1S SUV, because he strongly believes that moving towards electric transportation will be a huge step forward in the fight against climate change.
Q: What do you think the biggest challenge/opportunity is for mass EV transition?
A: Definitely charging infrastructure. From my personal experience, driving around the Austin, TX area is perfectly fine since chargers are plentiful and I can always charge at home. But on my first road trip from Austin, TX to Panama City Beach, FL, once I left the Austin metro area and got into more of rural America, I discovered that there are not many places to "quickly" charge an EV as you drive 800+ miles on I-10 through eastern-Texas, Louisiana, Mississippi, and Alabama, and the very sparsely available chargers were often not maintained or broken.
Q: What excites you most about RI's role in helping utilities with their TE programs?
A: Customers look to their local utility for guidance, and we can help provide expertise and guidance on all things electric, education on EVs, and facilitate the installation of charging infrastructure in historically underserved communities, major corridors, vacation destinations, and rural areas across the country.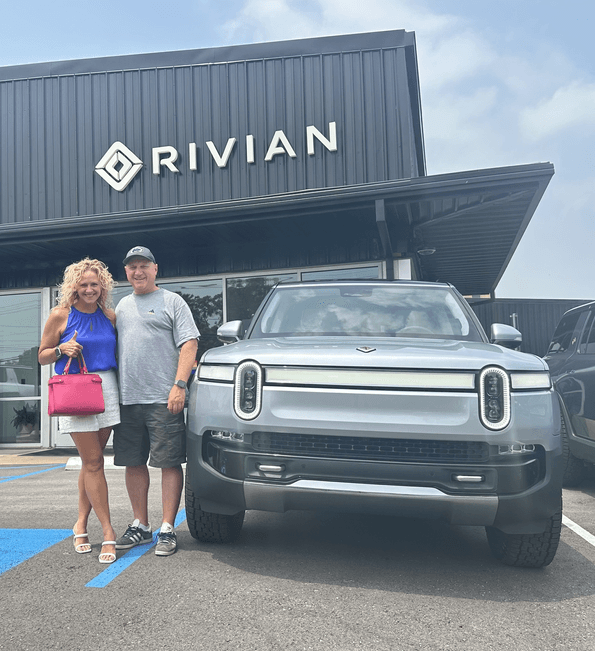 Accelerating the Clean Energy Transition
Transportation is the country's largest source of GHG emissions, but EVs can help reverse that trend. In the past cost was a barrier for many, however utility rebate programs and incentives from the Inflation Reduction Act (IRA) of 2022 have helped lower the purchasing cost of EVs for drivers and fleet managers.
At RI, we are committed to encouraging access to electric mobility technology and ensuring all communities can access those benefits. Since last July, we've supported utilities in providing 7,500 charging stations, rebates for make-ready and charging incentives, and online marketplaces for EVSE Level 2 equipment. But this is only the beginning. We look forward to more collaborations with states and utilities on innovative solutions that power change.
If you're interested in learning more about our transportation electrification services, please join us for our free webinar with SEEA on Wednesday, November 8 at 10 am PT/1 pm ET. Discover how transportation electrification grants are transforming communities, and the pivotal role utilities can play in expanding the reach of electrification programs.