Resource Innovations Unveils the Benefication Lab: A Hands-On Experience in Energy Transformation
Written by

Resource Innovations Staff

September 19, 2023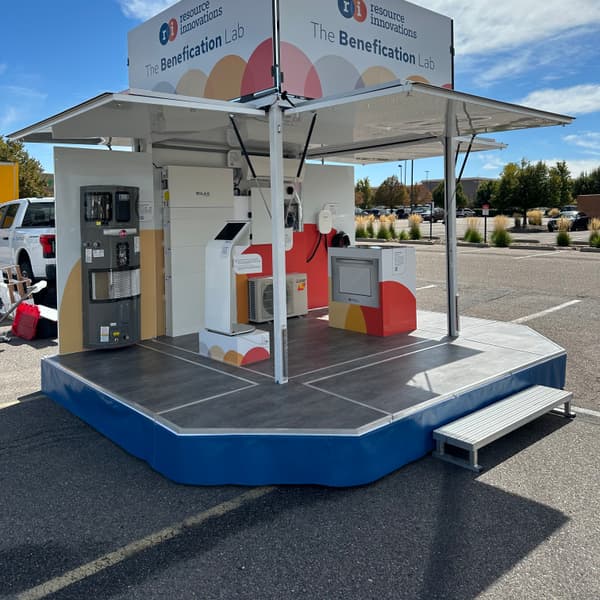 Immersive mobile Lab provides firsthand education to customers on emerging electrification technologies.
SAN FRANCISCO, CALIFORNIA, September 18, 2023 – Resource Innovations, a pioneer in sustainable energy solutions, is thrilled to announce the launch of the Beneficial Electrification Lab—better known as the "Benefication Lab"—a revolutionary mobile experience that promises to reshape the way the industry engages customers about energy consumption and electrification. This innovative endeavor is set to create waves of change in the energy industry.
The Benefication Lab is a dynamic and hands-on pop-up exhibit designed to engage, educate, and inspire individuals, communities, and organizations about the transformative power of electrifying our lives in a sustainable and efficient manner. This mobile laboratory showcases cutting-edge equipment and technologies that are rapidly gaining momentum, thanks to strong support from utility providers and statewide energy programs.
At the heart of the Lab is the opportunity for visitors to interact directly with cutting-edge equipment. Highlights of the exhibit include a state-of-the-art air-source heat pump, heat pump water heater, smart thermostat, level 2 electric vehicle charger, induction cooktop, and an array of solar panels dedicated to charging an integrated battery system.
"Beneficial electrification is not just about using electricity," said Lauren Casentini, CEO of Resource Innovations. "It's about using it wisely and efficiently to improve our lives, protect the environment, and enhance energy resilience. The Benefication Lab offers a compelling backdrop to attract trade allies and empower stakeholders to become part of this transformative movement."
Adam Tardif, Senior Vice President of Resource Innovations' E-Commerce practice, emphasized the Lab's role in guiding individuals and organizations toward a more electrified future. "The Lab is a bridge to understanding the transformative power of electrification. It equips visitors with the knowledge they need to make informed decisions, access utility programs, and tap into federal funding opportunities that make the transition to electrified homes and businesses economically viable."
Beyond educating individuals, the Benefication Lab plays a pivotal role in orchestrating cross-portfolio collaboration for energy efficiency, demand response, and clean transportation initiatives. This comprehensive experiential approach leverages all a utility's initiatives for the benefit of their customers, fostering a more sustainable and energy-efficient future.
The launch of the Lab also marks the beginning of an exciting cross-country tour. This mobile experience will make appearances at industry events, including the E-Source Forum, ENERGY STAR Partner Meeting, the Southeast Energy Summit, and 48th PLMA Conference, as well as utility partner offices, providing attendees and stakeholders with a firsthand look at the future of energy reimagined.
To learn more about the tour schedule, explore the Lab's offerings, or inquire about bringing the Lab to your community, please visit www.beneficationlab.com.
ABOUT RESOURCE INNOVATIONS
Resource Innovations (RI) is a women-led energy transformation firm focused on impact. Building on our expertise in energy efficiency, we're constantly expanding our portfolio of clean energy solutions to guide utilities through increasingly complex, connected challenges. We are a portfolio company of BV Investment Partners, one of the oldest and most experienced sector-focused private equity firms in North America. Visit resource-innovations.com to learn more about how we are accelerating the clean energy transition and leading the charge to power change.