Charging Ahead: The Inflation Reduction Act and the Electric Vehicle Revolution
Written by

Vanessa Perkins

October 24, 2023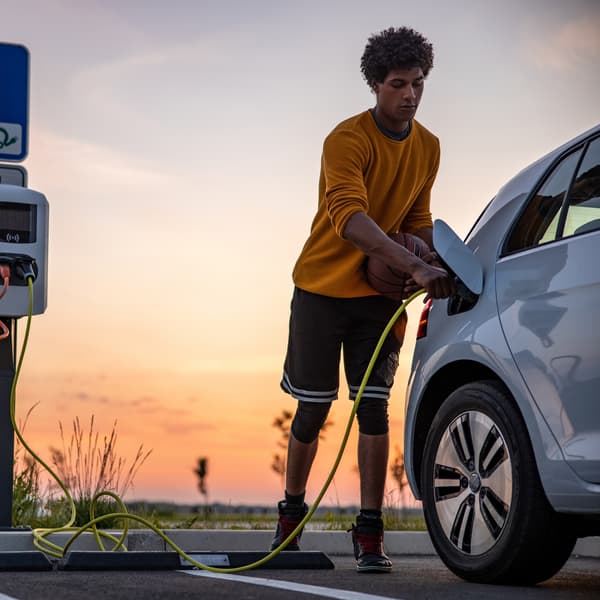 The Inflation Reduction Act (IRA) has set a crucial course for recognizing the interconnected nature of various economic sectors. One of its most promising and transformative aspects is its alignment with the transition to electric vehicles (EVs), which plays a pivotal role in advancing the nation toward a sustainable and energy-efficient future.
EVs: A Solution to Multiple Challenges
Challenge #1: Energy Efficiency and Cost Reduction
Electric vehicles are inherently more energy-efficient than their internal combustion engine counterparts. They convert a higher percentage of the energy from their power source into motion, resulting in reduced energy consumption and lower operating costs. As the IRA focuses on energy efficiency to combat inflation, the widespread adoption of EVs aligns perfectly with this goal.
Challenge #2: Technological Advancement
The IRA encourages the development and deployment of advanced technologies to drive economic growth. EVs represent a prime example of such technology, with continuous innovations in battery technology, charging infrastructure, and vehicle design. These advancements not only promote economic growth but also position the U.S. as a leader in the global electric vehicle market.
Challenge #3: Infrastructure Investment
The IRA recognizes the importance of infrastructure investment in economic development. As EV adoption increases, investing in charging infrastructure becomes crucial. Building a robust EV charging network supports job creation, reduces range anxiety, and accelerates the transition to electric transportation.
Challenge #4: Climate Action
Electric vehicles play a vital part in reducing greenhouse gas emissions and improving air quality. As a significant contributor to emissions, transitioning the transportation sector to EVs can help save money and energy.
Enhancing Accessibility and Affordability
The IRA includes provisions that will make EVs more affordable and accessible to consumers and businesses, and support the development of a domestic EV supply chain:
Expanded EV tax credits: Individual consumers can receive a tax credit of up to $7,500 for the purchase of a new EV, and commercial entities can receive a tax credit of up to 30% of the vehicle's purchase price. The IRA also expands the income limits for eligibility for the EV tax credit.
New tax credits for used EVs: For the first time ever, the IRA provides a tax credit for the purchase of a used EV. The used EV tax credit is up to $4,000, or 30% of the vehicle's purchase price, whichever is lower, and is subject to income limits and other restrictions.
Support for domestic EV manufacturing: The IRA supports the development of a domestic EV supply chain by providing tax credits for the production of EVs and EV batteries in the U.S., along with funding for the research and development of new EV technologies.
Impact on EV adoption:A study by the International Council on Clean Transportation (ICCT) found that the IRA could increase EV sales in the U.S. by 50-60% by 2030 and save consumers and businesses billions of dollars in fuel costs.
While these provisions will help make new and used EVs more affordable, access to charging infrastructure (and the cost to create it) still presents a significant barrier to EV adoption in the U.S. RI's Transportation Electrification (TE) team has helped organizations across the globe with their electrification efforts, implementing the installation of more than 7,500 EV charging ports via processed incentives. 
To continue the acceleration of EV adoption, utilities, fleet operators and government agencies must first understand the needs, perceptions, and motivations of their local communities. "We have to be careful to not overcomplicate the message for EVs and really make sure that we're driving home the benefits of how convenient the fueling experience is compared to gas vehicles," said RI's VP of TE, Kelly Helfrich, during an interview with the Raising Your Antenna podcast. 
EVs are a natural fit within the framework of the IRA—they represent a win-win scenario that positions EVs as a driving force in shaping a more prosperous and eco-conscious economy. As the U.S. races to meet the growing demand for EVs, every mile matters, and we have the experience to help you navigate the road ahead. Plug into our portfolio of tailored, end-to-end solutions and discover how we're transforming transportation one fleet, community, and grid at a time over on our Transportation Electrification page.